THE 10 STEPS FOR PROPERTY PURCHASE IN SPAIN
LAND REGISTRY AND LOCAL AUTHORITY SEARCHES
We carry out the initial title searches to find out what the legal situation of the property is, in order to confirm whether or not it is encumbered, whether there are any facilities or difficulties attached to the property, to  obtain land registry and urbanistic certificates, to verify the current state of the property and also who the legal owner of the property is/are.
In addition, we check the state of the various utilities attached to the property, applicable community fees and local taxes due on the property.
The first stage is to lock out the property by signing a reservation agreement, usually done by paying a deposit.

PRIVATE PURCHASE CONTRACT
We draft or revise the private sale agreement before signing the Public Deed at the notary office. In Spain the private sale agreement is extremely important.
We cannot emphasize enough this point. Agreements made in this Private Purchase Contract are binding at the time of signing for the Title Deeds – Price, Conditions and Timescales.
The Power of Attorney can be prepared in Spain or in your own country of origin, if preferred. We can arrange this with a local notary conveniently located to where you live.
NIE - FOREIGNERS IDENTIFICATION NUMBER
We can assist with obtaining the Foreigners Identification Number (NIE) – this is an tax identification number used in Spain assigned to each person, and is a requirement for the purchase.
This is done in person, or by Power of Attorney.
We can provide advice and assistance regarding financing, mortgages and bank accounts.
Preparation of and signing of the corresponding Deed of Purchase at the Notary. We will accompany you and translate the appropriate documents, or signing by Power of Attorney.
Payment of all corresponding taxes and fees, depending on the type of property, value, and the region of Spain.
Check the example below.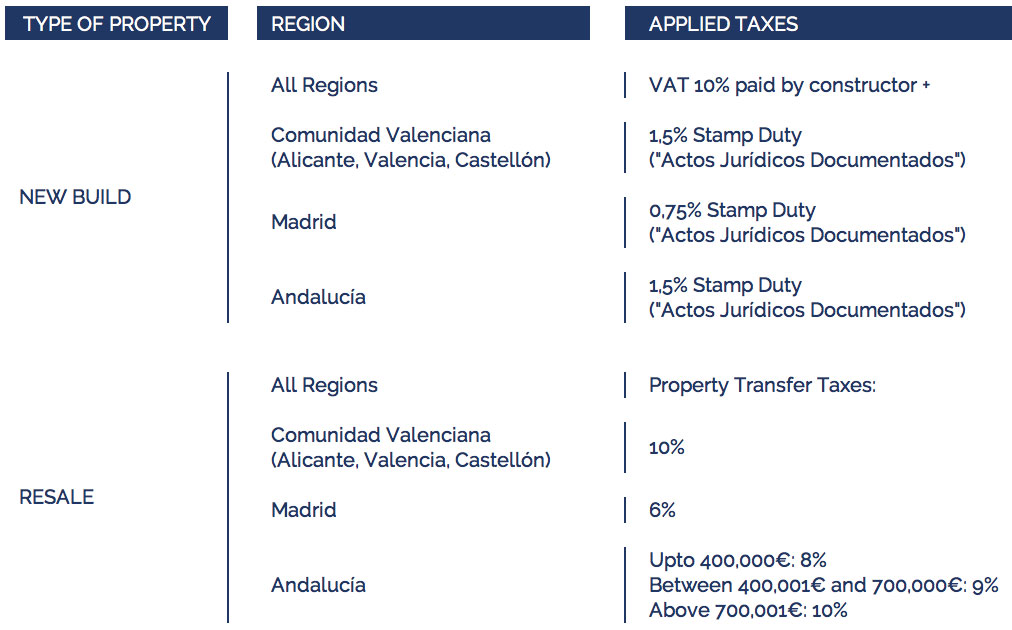 Conveying title of the property at Cadastral and Registry offices. Registry and notary fees vary depending on the property and region, but as a guide are around 1-1.5% of the property price.
Ensuring that all utilities, Community Fees (if applicable), IBI (local taxes) and Townhall taxes (rubbish and sewage) are changed into the new owner's name, and set up correctly with the bank.
FREE CONSULTATION WITH NO OBLIGATION!